After 20 years iFriends the oldest camsite in the industry is closing down. On October 16th, 2018, iFriends released a statement announcing to cammodels and affiliates that they were immediately closing their camsite. This news comes a complete surprised to us here at Boleyn Models because iFriends was one of our network partners. It was a pleasure to have them in our daily pay program for cammodels and we are saddened to see an industry legend like iFriends close down. In addition to our own disappoint we were quickly alerted by cammodels who were loyal to their brand on how they should proceed. It appears that many were not prepared for this sudden announcement and are having difficulty finding other alternatives.
While iFriends was the oldest camsite in the adult industry, they weren't leading the pack when it came to updated tools for cammodels. Additionally competing camsites grew stronger and certain government policies began to apply pressure on those who struggled to keep up with the modern changes:
"But much can change in 20 years. In 2018 alone, the FCC-mandated demise of "net neutrality", new legislative developments out of Washington DC, and certain costly patent litigation efforts have further transformed the business landscape in which we operate.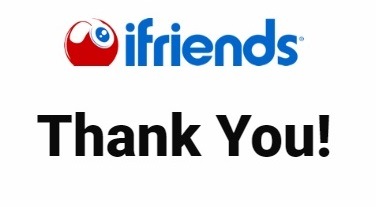 So, it is with some regret – but also with an enormous sense of pride and gratitude in what we have all achieved together – that we elect to use this 20-year anniversary milestone as a natural and organic moment to discontinue the platform, and to express our gratitude to you for twenty years of fellowship, support and for being our "iFriends". As we wind down the service in an orderly and responsible manner, it is at this harmonious juncture that we say to our iFriends, "we are hereby closed for business." –iFriends
Over the past 20 years since the very first chathost turned on her webcam and started streaming live from her home, hundreds of new camsites have entered the industry not lasting even a year. Only a select few have been able to stay the course and go on to be a cammodel favorite. We're happy to say that those sites that have excelled in the adult industry are all apart of our daily pay network. Although we are sad to see iFriends close their doors it is our duty as a studio to assist models in finding an alternative camsite to make their new home on the internet. We've already had lots of models who were loyal to the IFriends brand via Twitter and are dedicated to help in any way that we can.
After 20 Years In The Camsite Industry iFriends Announces They Are Closing Down. It was an immediate decision that shocked many of their most loyal chathost.
IFriends was where I began my career in this industry. From cam model to pornstar. How the cam world has grown & changed. Thanks for giving me a place I called Home for many years. 💋❤️✌️ https://t.co/8s56QePQlG

— ★ Dee Siren ★ (@mrssiren) October 19, 2018
So sad @iFriends closed down but really they had so many loyal models like @Mercedes_Lust and didn't tell anyone… Not cool!

— ❤︎SummerSinn❤︎ (@SummerSinn) October 17, 2018
If you're only just hearing about this unfortunate news and have earning in your IFriends account they've posted additional information on what to expect for cammodel payments:
The iFriends platform ceased operation on 10/17/2018.
You will be compensated for all traffic and income received up until that date, with payouts continuing to flow to you according to the usual schedule. If you still have any links or traffic that is directed to the iFriends platform, we recommend you close or change those links, as these are no longer productive.
If you're a cammodel looking for an iFriends alternative or a camsite that has similar qualities, we have several in our daily pay network. The following camsites have comparable setups to iFriends and should make for a smooth transistion:
Become A Cammodel On Streamate
Streamate is wonderful standout in our network and is the camsite that we recommend to both new cammodels as well as veterans in search of  a new camsite. Because of this sites ease of use and high performance ratio, we've decided to offer a weekly bonus for cammodels who have decided to make Streamate their home. It's a private based site that offers three different ways for cammodels to live stream from home.
Party Chat- When a cammodel on Streamate sets their stream to Party Chat, all logged in members who enter the chatroom are able to communicate with one another. All chat messages are visible to all members and not just the cammodel.
Classic Chat- Models who select the Classic Chat option on Streamate are removing the ability for logged in members to interact with one another. Members aren't able to see chat messages from other members nor can they see how many people are in a models room. However even when this option is selected members who aren't logged in are able to see what all parties are publicly typing but are not able to interact at all. Not even with the cammodel.
Gold Shows- You must be in Party Chat mode and have Gold Show approval before you offer this type of show. In most cases dedicated models will have this ability within a week of their first stream. Gold Shows are shows that begin once the goal set for the show has been reached. However models do have the ability to start the show even if the goal hasn't been met, but the intended purpose is to have members tip in the requested amount. Members who have tipped in at least the minimum amount will have access to the live show once it begins. For more information on How To Make Streamate Gold Shows Work, take a look at this tutorial. 
Cammodels are able to set their per minute rate as low as $1.99 a minute (Not recommended at all) and members are able to  leave gold tips for cammodels at any time. Each gold is worth a full dollar. Streamate pays out each week via check or with a payment card with additional fees. But if you join through our network you can receive your payments every day via debit card, Paxum.
Cams.com The Other Private Site
This Private Based Camsite Has Various Tools That Cammodels Can Use To Convert Sales Like:
Onsite Messaging Through Email: This is a great tool that can help increase your exposure on the site. Also it's an amazing conversion tool that will entice members to visit your chatroom.
Interactive SexToys Powered By Connexion. Interactive sex toys have been proven to increase cammodel earnings and they are used on almost every camsite.
Cams.com also has multiple ways for cammodels to stream. One popular chatmode is Nude Chat where cammodels can place themselves behind a pay wall. You can skip free chat all together if you choose. This is a perfect site for splitcamming.
To learn more about the different features and what Cams.com has to offer please checkout the article previously written on our site.  We do have other options for cammodels who are interested in sites that are based on the token site model like MyFreeCams and Chaturbate. Ultimately we are sad to see the oldest camsite in the business come to an end, but we are here to assist models in search of an iFriends alternative. I believe that Cams.com and Streamate are two wonderful places to start.
If you need any additional help in making a decision please reach out to us via email at support@cammodelpay.ninja or on Twitter @Boleynmodels