The world's largest fetish clipsite, Clips4Sale is now apart of the Boleyn Models Daily Pay program. This latest announcement means that our network of over 20 camsites, clipstores and most recently a phone sex site, we've gotten bigger by adding Clips4Sale. We currently have Manyvids and IWantClips as well as C4S but this latest addition has been greatly anticipated mostly due to it's longevity and veteran status in the adult industry.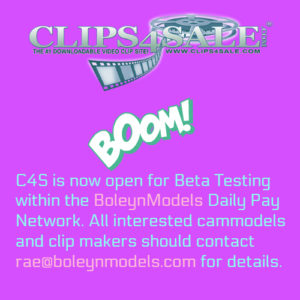 Clips4Sale is widely known for being the go to place for obscure fetishes and amateur content. While there are several large porn companies displaying their content on C4S, over the years it's been known to be a cammodel companion for add on sales and developing a brand. As the porn industry changes by taking a step away from overly produced releases, the recent trends seem to be in the favor of stay at home content creators. Although amateur porn has become more popular with time, the word amateur isn't a reflection of the quality of the content uploaded to the site. It's used more as a niche that simply describes the content as not being produced porn stars and porn producers. A large majority of the fetish clips found there are created by cammodels and the filming quality is very professional. Cammers have begun to invest more money into their equipment by purchasing DSLR Cameras to make their clips instead of just using their webcams.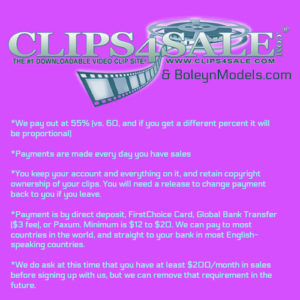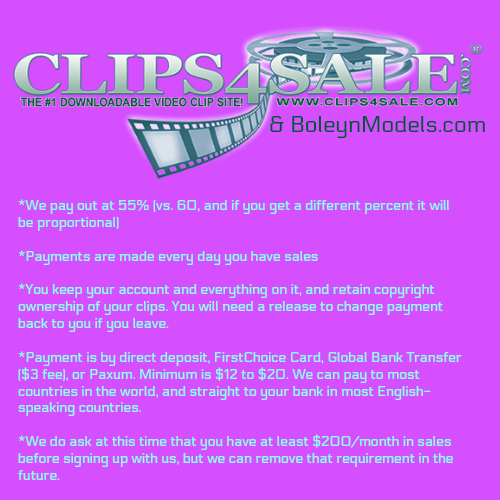 Previously before joining the Boleyn Models Network, Clips4Sale only sends out one monthly payment to all creators on the fifth of each month. So now that they are a part of the daily pay program, cammodels are now able to get paid for their clips sales each and every day without having to wait and entire month. If you are a complete novice in the clipsites and would like to learn more about adding more eggs to your basket but are unsure of how to get started, check out this wonderfully detailed article The Anatomy Of Fetish Clip Making.
Boleyn Models pay's out at 55% (vs. 60, and if you get a different percent it will be proportional)
Payments are made every day you have sales.
You keep your account and everything on it, and retain copyright ownership of your clips. You will need a release to change payment back to you if you leave.
Payment is by direct deposit, Global Bank Transfer ($3 fee) and Paxum. Minimum payment for direct deposit is $20. We can pay to most countries around the world. See here for more details.
We do ask at this time that you have at least $200/month in sales before signing up with us, but we can remove that requirement in the future. If you're interested in signing up for Clips4Sale via the Boleyn Models Daily Pay Program please submit an email to rae@cammodelpay.ninja for further details.