Very soon all Streamate models will be able to use the new SMConnect, an improved version of the current flash-based streaming page. Now that Adobe has officially decided to kill off Flash, web browsers and streaming platforms have already made the proper adjustments for advancements with HTML5 in a post Flash era. Streamate a popular network partner within the Boleyn Models daily pay program has decided to join the club with the introduction of the SMConnect.  Cammodels who have the "Opt in to test features" set to "Yes", will receive an early access notification on their dashboards.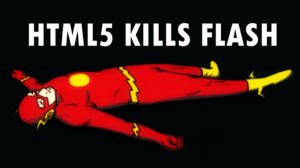 Try A New Way To Stream!
Because this is a completely new venture that's being created from the ground up it's only being offered to a limited number of cammers. The slow launch is most likely done in order to test the newer features on a small group to ensure their tech team is on the right track. SMConnect was designed to provide models with better streaming tools as well as a streaming page that's fully organized and customized. Models will even be able to assign colors and icons to their preset messages as well as choose a light or dark theme for the dashboard interface.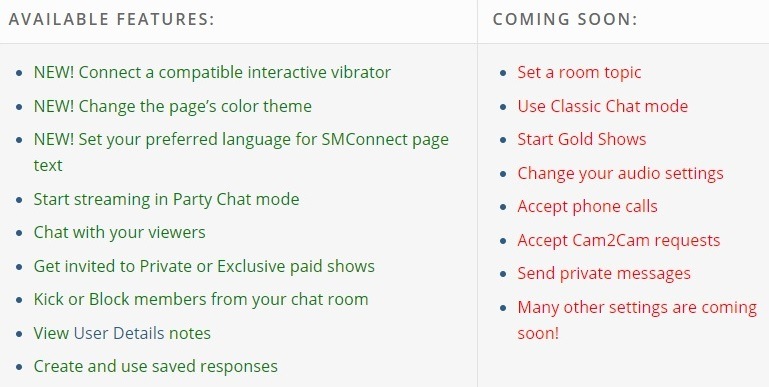 Yes, You Can Still Use An Encoder For To Achieve High Definition Streaming.
There are two different ways for cammers to use the SMConnect and the first is by selecting "Chrome Broadcaster" from the drop down menu below your username. The second option for streaming is by selecting "External Encoder".  Streamatemodels who use an External Encoder their live camshows receive a placement boost on the platform. Currently both the OBS encoder as well as Adobe's FMLE are compatible with the SMConnect. My personal preference is the Open Broadcast Software, an extremely popular option in the gaming community. Please not that you don't have to use an encoder, but if you opt out you'll only be able to stream using Chrome as your browser.

I'm not sure if the above statement is an indicator that the SMBroadcast will eventually become ancient history or if  it's be compatible with the SMConnect? I've never been satisfied with Streamate's own broadcaster hence the reason why I stick to the OBS. It's a great tool for some models who may not understand the complexities of  creating a high definition camshow or may not need the option for splitcamming, because it's intended purpose is tho detect your setting for you. But for my multi-streaming needs it's always been a big fat NO!
New And Improved Chat
Instead of three chat boxes on your live chat page, they've simplified things for you. No more will you have to remember to look all the way to the bottom of the page to see the guest chat, but now  all messages appear together in one box.  It is still possible to de-select the "Free Chat Guest" so you can focus more on those who've entered a credit card to join the camsite and it's also possible to hide chat messages while in a paid show. Sometimes it can be a bit distracting when outside members send messages during shows. All viewers start as Guests. When a paid show starts, paying members will move to the Paid section. Click any member's name to block, kick, or check your User Detail notes.
Now here comes the bad part about the new chat option with the SMConnect…

I really hope that they can find a way to incorporate the "Classic Chat" option on the new chat page. Classic chat is a feature where models are able to separate and filter conversations among members. When you choose this mode, logged in members will only be able to see messages from the cammodel and the ones that they create themselves.  I can think of at least three different reasons as to why this chat mode is important:
Shy members can receive a higher level of comfort while communicating with cammodels.
It cuts down on the number of trolls who's main objective is to disrupt the flow of your camroom by insulting other members.
In Classic Chat mode cammers can pretend that their room is more active by talking to themselves. This may sound crazy but sometimes I am my own best conversation. 🙂 There is no hiding when using Party Chat on Streamate. Everyone can see everything, including the amount of members in your chatroom.
Live Interactive Sex Toys On Streamate
Tip vibes and giving customs more control over select sex toys during live camshows just became more prominent on the Streamate platform. Interactive sex toys aren't a new tool for cammodels, but they will be a major focus with the creation of the new SMConnect.  They've paired up with the  creators of the FeelConnect app to help models connect a compatible bluetooth vibrator with their live stream. During your live show, viewers will see a notification when your toy is online! When cammodels receive GOLD from members this will cause the toy to automatically vibrate for 10 seconds.
Click here for a step-by-step guide from FeelConnect. When you get to the "add website" section, you'll need to scan a unique QR code. You can find this on the SMConnect page by clicking the "Setup Toy" button. Once you've successfully paired you device and your Streamate account, the "Interactive Toys" section will update to tell you when your toy is online. Click "Refresh Status" at any time to get it to look for your toy again. If you'd like more information on the latest Streamate ventures and summer updates, take a look at this video created by Vanessa Eve the model recruitment team: