Welcome to 2019 where new gadgets for cammodel lighting and live streaming have become more portable and more powerful than ever before. Last month way back in 2018, I sent a tweet to the peeps at ElGato gaming inquiring about a set of lights used in one of their promo ads. It was used during their Stream Deck campaign and immediately caught my attention. I've been on the hunt for a cammodel lighting set up that I could use with ease no matter where I was streaming from.
Hello @elgatogaming are you able to help me find the lighting from this setup? 💗 #elgato #streamers pic.twitter.com/R8KvEwjVbP

— Get Paid Every Day (@BoleynModels) December 16, 2018
Recently I've had to do a bit of travel camming and moving from place to place with umbrella lights and softboxes just wasn't a practical option. As a result I wound up traveling with a set of bendy clip-on desk lights and CFL bulbs. Using desk lamps isn't exactly the best set up for webcam lighting. But it sure does get the job done when you're streaming on the go and in need of cammodel lighting on a budget. And to this very day ElGato seems to be the one company who truly understands creating content on the go. They have so many products that help simplify things for streamers in both the gaming community as well as the adult industry. I just wish I could get them to respond to my tweets under the Boleyn Models account without having to switch over to my mainstream twitter. Sidenote: When will these companies come clean and admit that cammodels are a major force driving their million dollar sales? I'm looking at you too, Logitech! Let's have this conversation at a later date.
Introducing The ElGato Key Light
What's so great about the ElGato Key Light isn't just it's portable size, it's also a light weight gadget that delivers a high impact at lower temperatures. Based on the description this light will stay cooler than your typical umbrella lights and take up far less room. The Key Light comes with an adjustable stand that can be mounted to your desk directly to either side of your webcam/dslr for three point lighting. It's software operated and can be linked to either your desktop or through your smart phone via an application. Here's a tweet from the ElGato account listing four major features for the Key Light:
Introducing Elgato Key Light.

✅ Software controlled
✅ Works with Stream Deck
✅ Ultra space saving desk mount
✅ Ultra bright, fully dimmable

Shipping January 14.

Learn more:

➡️ https://t.co/HcvgGE4a5C pic.twitter.com/JmJDhFeFPw

— Elgato Gaming (@elgatogaming) January 7, 2019
App-enabled: adjust settings via your screen for accurate real-time feedback
Ultra-bright and adjustable: 2500 lumens and fully dimmable
Versatile color temperature: 2900 – 7000 K produces cold through warm white
Glare-free diffusion: Opal glass face ensures balanced lighting
No-sweat comfort: keeps heat impressively low compared to soft boxes
FYI The Key Light Is Not Made For RGB Colors. It's only available in white lighting that can be altered from cool to warm. The teaser video above could be a little misleading and may give some people the wrong idea when placing their order and of course I've just finished placing my order tonight. I can't wait! I plan on using my light for live streaming as well as taking photos that include different color techniques using tissue paper and transparent panels. However their is another gadget for cammodel lighting that comes with a built in RGB Color changes.
The Philips Hue Light Bar Is Great For Cammodel Lighting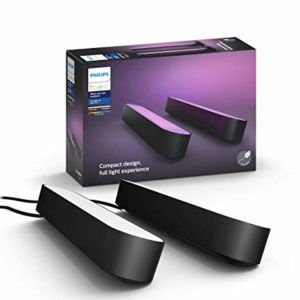 It's a versatile light bar that can easily transform your camroom and is great for travel camming. Before now many of us were using the Philips Hue Led strips that were next to impossible to remove and reapply. But now Philips has created a compact lighting system that can be set up in a variety of positions and locations throughout your home. I have not purchased the Philips Hue Light Bar but I do own the LED strips plus a Philips HUE LED Bulb. This new light bar seems to be a hybrid of both the bulb and the led strips. I've watched several reviews on this product and it appears that with a setup of two lights it could be sufficient for a three point lighting set up. I would recommend a ring light as a central focal point placed directly behind your webcam/dslr camera to fully illuminate your camroom.
No matter which one of these products you decide to go with to light up your camspace, I'm sure you'll be able to achieve a magnificent glow that will shine through your live stream. I personally went with the Elgato Key Light because I already have a long list of products from that company, including my new Stream Deck that works with it. I was able to save a few dollars when I ordered mine during Cyber Monday Deals. Currently this product is only available on the El Gato website, but I will keep my eyes open for discounted prices in the coming weeks on Amazon and will be sure to report back then. For now Happy Camming and remember "Nothing Can Dim The Light That Shines From Within" -Maya Angelou