Now joining the Boleyn Models Daily Pay network is Unblur a new option for independent camming and content creators. Unblur is an indy platform powered by Skyprivate and was created for those with their very own fanbase in need of a one stop storefront. This new venture will most likely appeal to cammers who prefer selling content on websites where their items are highlighted, front and center. Adult performers can use Unblur as their main website or integrate their content into an existing self hosted website. The choice is completely up to you.

Cammodels can join Unblur media and start selling digital downloads, photo sets and subscriptions to various social media accounts like SnapChat. Panty sales and other physical items are allowed as well.  Skyprivate created Unblur.Media to ensure cammodel creators have a greater chance of increasing their revenue with technology that will help maintain independence.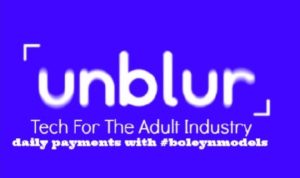 The payout rate is 81% when performers choose the Boleyn Models daily pay program for their payout option from Unblur. Also, there are zero chargebacks when using this new network partner. Models will begin to see this new option for indy performers on P.I.G within the next week and can contact us on skype at "BoleynModels" for additional information.
In the meantime if you have any interest in becoming an independent cammodel and you're unsure if a third party platform is the best option for you, BUT you do have a rather large following allow me to provide more insight:
As an independent cammodel with your very own self hosted website you are expected to promote your brand without the help of a third party platform. Also as an Independent Webcammodel I have to ascertain payment processors, advertising, and create my own marketing materials. I pay the overhead for all my websites including the hosting plan for each site I own. And I have to target and generate my own traffic. By far generating traffic is the most difficult part of the equation. You will need to learn SEO skills (Search Engine Optimization) In a nutshell you will want to make sure that Google can find your website and make you available to all the horny spenders out there. When you sign up for a Free Chat Site all of this is done and provided for you. But as an Independent you are expected to do this all on your own. Source: "My Journey To Becoming An Independent Cammodel"
Using a third party service like Unblur as your virtual storefront cuts down on overhead cost for things such as hosting, domain registration (You can save money here, but I do recommend that each performer should always own their performer name) and learning search engine optimization.  Plus it's far faster to use than setting up you're own website where some knowledge of coding may be required. Not with Unblur.Media. The most any cammodel with have to do to get setup will be create payment pages after uploading content then insert a product description. And just like that you're done and ready to tweet it out to all of your adoring fans.
Suggested Reading And More Cammodel Tips:
Texting & How Cammodels Can Sell Kik Sessions
Join BoleynModels And Get Free Daily Pay On Skyprivate